This is probably the hardest best-of list I have ever complied—too many great albums this year! I almost caved in and made a top 50 list, but thankfully didn't. This will not be the only 'best-of-09' post you will see on this blog because 1) there are just so many incredible releases this year and I don't want to leave anything out and 2) I love making best-of lists! For now, please enjoy my 30 favourite albums of 2009!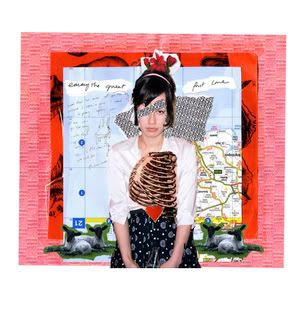 30. Emmy The Great: First Love
Emma-Lee Moss's fantastic songwriting and clever use of pop culture references make
First Love
a delightful album.
29. Teenage Bottlerocket: They Came From The Shadows
14 fast and awesomely fun pop-punk anthems—just a great mindless album.
28. The Maccabees: Wall Of Arms
The Maccabees' sophomore is full of passion and emotion... it is full of inspiring and genuine lyrics;
Wall Of Arms
is without a doubt, a more mature and an overall better album than the band's debut.
27. Japandroids: Post-Nothing
Loud distorted melodies, noisy rhythms and carefree lyrics like
"I don't wanna worry about dying/I just wanna worry about those sunshine girls,"
Post-Nothing
is noise rock heaven... turn this one up!
26. Dirty Projectors: Bitte Orca
The strange and unpredictable melodies make
Ditte Orca
delightfully engaging; "Stillness Is the Move" is brilliant, definitely one of the best songs of the year.
25. The Hidden Cameras: Origin:Orphan
A handsome collection of serious/grand sounding songs as well as cheery pop sensations... I don't get why so many critics are hating on this record?!
24. Lawrence English: A Colour For Autumn
A Colour For Autumn
is exceptionally dreamy and atmospheric; it is also one of the most calming and relaxing albums I have ever heard.
23. Atlas Sound: Logos
I am probably a little bias on this one as I adore anything by Bradford Cox! This Atlas Sound record sounds more like a Deerhunter record (
Weird Era Cont.
and
Rainwater Cassette Exchange
); regardless, it is another incredible release from Bradford Cox.
22. Last Lights: No Past No Present No Future
Take the best elements of old and new hardcore music + brutally truthful lyrics and emotionally aggressive vocals =
No Past No Present No Future
, one of the best hardcore albums in recent years! RIP Dominic Mallary.
21. Micachu: Jewellery
This cross-genre debut by Micachu is full of imaginative layers and complex melodies;
Jewellery
is incredibly unique, lively, and fresh.
20. Dead Man's Bones: Dead Man's Bones
This is definitely the surprise of the year! The spooky piano melodies, mysterious found sound, echoey vocals and the eerier contribution from the Silverlake Conservatory of Music Children's Choir make for the perfect soundtrack to Halloween.
19. Sunn O))): Monoliths & Dimensions
An ultimate display of intensely ambient noise and drone metal... just fucking awesome!
18. Phoenix: Wolfgang Amadeus Phoenix
A near perfect pop record.
17. Pajo: Scream With Me
An album full of dreamy and tranquil Misfits covers... wicked!
16. Animal Collective: Merriweather Post Pavilion
Call me crazy, but I did not really start liking Animal Collective until this album, "Summertime Clothes" totally won me over.
15. Jamie T: Kings & Queens
Jamie T's debut,
Panic Prevention
was my second favourite album of last year; so naturally, it took me quite a while to truly appreciate
Kings & Queens
. The song writing and production is once again brilliant; and while the album appears to be more mature, it is still full of witty and youthful moments that make the first record great.
14. Karen O and the Kids: Where the Wild Things Are
A very entertaining and emotional soundtrack to an equally entertaining and emotional film.
13. Grizzly Bear: Veckatimest
I think Grizzly Bear have successfully reached/introduced great indie rock music to a wide spectrum of audiences around the world with
Veckatimest
... great job guys!
12. Let's Wrestle: In The Court Of The Wrestling Let's
This brilliant debut is fun and energetic—it is a jolly and youthful indie/punk record! "We Are The Men You'll Grow To Love Soon" is ultra catchy!
11. Mount Eerie: Wind's Poem
Elverum's soft voice and moments of soft harmonies are the perfect contrasts to the mysterious ambient noises and dark distorted drones in
Wind's Poem
; the result is terrifyingly breathtaking.
10. The Shitty Limits: Beware the Limits
The Shitty Limits play fast, loud and explosive DIY 80s hardcore punk style music.
Beware the Limits
is for fans of 80s hardcore punk who are longing for something new but nostalgic at the same time.
9. Dananananaykroyd: Hey Everyone!
A mega fun album full of catchy fast pace rhythms, lively shouts, memorable call and response vocal exchanges, and awesome crapping section!
8. The Thermals: Now We Can See
Just a perfect indie rock album full of negativities and gloomy lyrics contrasted by joyous and poppy melodies.
7. The Horrors: Primary Colours
The Horrors have once again successfully taken the best elements from a popular classic genre and reinvented it to create an absolutely astonishing record!
6. The Antlers: Hospice
Hospice is ambitiously emotional and hauntingly beautiful. The Antlers has crafted something that is incredibly pure and moving... and exceedingly depressing.
5. The Zookeepers: Ballin' Outrageous
DIY music at its finest;
Ballin' Outrageous
is half an hour of incredible cross-genre journey—from loud screamy vocal ("Ballin' Outrageous") and folk ballads ("Bubbling Brine" and "Mohono") to messy lo-fi noise punk ("Fat Tax") and electro synth pop ("Chicken", "Beautiful World", and "Helio Pause"—it is the most creative record of the year!
You can download
Ballin' Outrageous
for FREE over at The Zookeepers'
website
!
4. Grammatics: Grammatics
This album is an excellent example of great band chemistry—the multi-textured arrangements work wonderfully with Owen Brinley's dramatic vocal deliveries—the music and vocal interact so beautifully together; the result is a flawlessly remarkable debut.
3. Gallows: Grey Britain
Gallows' sophomore consists of 13 angry anthems—that's 50+ minutes of deliciously aggressive music! The crashing melodies, heavy riffs, and screaming vocals in
Grey Britain
make up for some of the best hardcore punk music I have heard in a long time; in fact, this could be the best hardcore album since GlassJaw's
Everything You Ever Wanted To Know About Silence
.
2. Timber Timbre: Timber Timbre
Taylor Kirk's soft and controlled voice and the tranquilly minimalist instrumentation make for a gorgeously warm and welcoming album,
Timber Timbre
is remarkably stunning!
1. Noah And The Whale: The First Days of Spring
I have seriously listened to
The First Days of Spring
over a hundred times since it was released at the end of August! It is by far my favourite album of 2009! It is wonderfully mellow and genuinely heartbreaking—it features some of the most moving and candid songs I have heard in a long long time.
The First Days of Spring
is a beautifully crafted emotional journey; the album is flawless—the music, lyrics, Fink's vocal, the ordering of the tracks, and the album cover art—Noah And The Whale have created a masterpiece!
I hope you enjoy my very subjective top 30 list... now it is your turn to tell me your favourite albums of 2009!