Thanks to the recent success of noise bands such as HEALTH, No Age and most recently Wavves, more and more bands from this genre are getting noticed. One of those emerging band is Crystal Antlers. Their debut LP,
Tentacles
is everything a noise fan could ask for—40 minutes of loud and melodic rock. Style wise, Crystal Antlers sound quite similar to their fellow tropical punk act Abe Vigoda. Likewise, their continuous ruckus and wild energy reminds me of The Blood Brothers and Parts & Labor.
Tentacles
is able to achieve what quite a few noise records failed to do—going all out without being too exhausting.
Andrew
[wicked-cool song]
Tentacles
Your Spears
[wicked-cool song]

***all files expire in 7 days or until bandwidth reaches its limit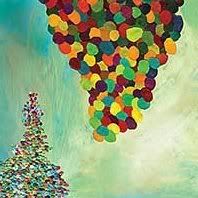 visit Crystal Antlers' MySpace here

Tentacles
comes out on April 7th, you can pre-order it here