This month seems to be the best month of reissues ever:
1) The Beatles
digitally remastered mono and stereo CD box sets
are out tomorrow! I hope they get a vinyl release in the future!
She's Leaving Home
[super-wicked-cool song]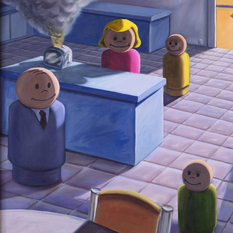 2) Sunny Day Real Estate's
Diary
and
LP2
—remastered with rare bonus tracks and newly written liner notes are finally coming out on CD and vinyl next Tuesday!!!!!!!
I am seriously so excited about this! I got
Diary
on vinyl over the weekend and it sounds AMAZING!!!!! "8" and "9", which were originally released on
Thief Steal Me A Peach 7"
are the bonus tracks! I can't wait to hear
LP2
on vinyl!!!!! (sorry for exclamation marks overload)
In Circles
[wicked-cool song]
3) Finally, one of the most influential British records of all time—The Stone Roses'
The Stone Roses
—is available on vinyl (previously available as part of the
20th Anniversary Collector's Edition
.) I also got this one over the weekend and cannot stop listening to it; it really sounds incredible on wax! If you live in/near the Toronto area, stop by at Criminal Records (493 Queen St. W) and pick up this limited release!
I Am The Resurrection
[wicked-cool song]