My Brightest Diamond is Shara Worden, together with her own band of merry wanderers.
Dealing with themes of loss, rebirth and the discovery of one's purpose in life,
Bring Me the Workhorse
(released August 22, 2006) seems to creep from the corners of rooms that are shrouded in darkness save for those few hours of light in the late afternoon. But that's just it, although many of the songs deal with subject matters from the darker parts of life, there's a hidden optimism to the work. In "Dragonfly", a dragonfly is caught in a spider's web, but even still beckons to the singer to fly again despite her fears. Children in "The Robin's Jar" pray to God to re-animate the corpse of a bird they found in the back yard; a woman decides to go on loving her man despite his multiple faults in "The Good & the Bad Guy". The themes are crystallized in the title track "Workhorse", a reference to the novel
Black Beauty
by Anna Sewell, where Shara sings from the vantage point of the evil master who has misjudged his stallion. The dark horse (depicted on the album artwork with Shara) fails as a workhorse, but we all know that Black Beauty was destined for greater things.
With the sweeping strings of a quartet, and peppered with bells and the sounds of dreams,
Bring Me the Workhorse
sparkles. Shara's voice undulates and vibrates (I love the trilling on "Something of an End") around the lyrics, and sounds like a hybrid of Fiona Apple and Joni Mitchell with an operatic twist.
Something Of An End
Dragonfly
We Were Sparkling
***all files expire in 7 days or until bandwidth reaches its limit


Listen to My Brightest Diamond's cover of Radiohead's
Lucky
here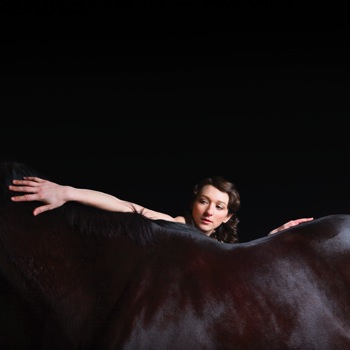 buy
Bring Me The Workhorse
here